Dabbles in photography now and then. Likes searching for movie trivias and scripts and jotting down her fave ones. Is in a happy, steady relationship with a physicist who doesn't know tumblr works. Has an on-going project to catalogue all her books by title, date bought, genre, author, even the fracking color of the covers (rain check on that). Likes making and reading lists. Can't tell a good joke when forced.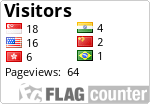 YOU KNOW YOU'RE PINOY IF:
One of the first things you teach your barely year-old baby is how to 'close,open' those little fists. With matching song and clap number.
Close, Open na,

Close, Open!