Dabbles in photography now and then. Likes searching for movie trivias and scripts and jotting down her fave ones. Is in a happy, steady relationship with a physicist who doesn't know tumblr works. Has an on-going project to catalogue all her books by title, date bought, genre, author, even the fracking color of the covers (rain check on that). Likes making and reading lists. Can't tell a good joke when forced.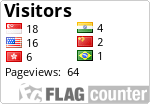 Man Ray: A man in love with a woman from a different era. I see a photograph! 
Luis Buñuel: I see a film! 
Gil: I see insurmountable problem! 
Salvador Dalí: I see (a) rhinoceros! 
My fave part of Midnight in Paris, Adrian Brody's 1920 version of Salvador Dali, although Corey Stoll's portrayal of the emo/passionate Ernest Hemingway was quite memorable as well.