Dabbles in photography now and then. Likes searching for movie trivias and scripts and jotting down her fave ones. Is in a happy, steady relationship with a physicist who doesn't know tumblr works. Has an on-going project to catalogue all her books by title, date bought, genre, author, even the fracking color of the covers (rain check on that). Likes making and reading lists. Can't tell a good joke when forced.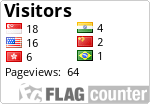 Japanese artist Riusuke Fukahori paints three-dimensional goldfish using a complex process of poured resin. The fish are painted meticulously, layer by layer, the sandwiched slices revealing slightly more about each creature, similar to the function of a 3D printer.
This artist takes 3-D to a whole new level. Epic.Watch the video on how he does it.
via [thisiscolossal]