Dabbles in photography now and then. Likes searching for movie trivias and scripts and jotting down her fave ones. Is in a happy, steady relationship with a physicist who doesn't know tumblr works. Has an on-going project to catalogue all her books by title, date bought, genre, author, even the fracking color of the covers (rain check on that). Likes making and reading lists. Can't tell a good joke when forced.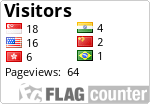 Tuesday afternoon, solved. Next stop, Immortal Beloved. Well, as soon as the torrent finishes downloading it anyway. 
God, I miss playing football. I had to keep refusing my alumni team's invites to play seven-aside games. The cost of shelling out for the reg fees and traveling to the different fields for practices and games can drain one's monthly budget [I really need to save as much as I can for the wedding]. Plus, I need to have an even skin tone before the wedding day. My skin seems to be impervious to SPF lotions.
Back to the movie. Laters.